At Cat Napping, everything we provide is specially chosen to ensure your fur kids receive five star treatment from the moment you say goodbye, and that you can do so with the confidence that you have left them in the best care available. From our luxury individual quarters, where each guest has their own warm, clean and private sleeping area – to our carefully selected team of qualified carers to ensure every kitty guest is receiving the attention they need.
Cat Napping Suburban Retreat was founded in 2011 by every cat's best friend, Ebony, who has always had two loves in life – cats and travel. She knows all too well the heartbreak and concern travellers feel when they have to leave their fur kids in other's care and this is what led to the creation of Cat Napping. "I wanted to ensure there was a place where people could leave their cats with the confidence that they were receiving all of the luxuries, care and attention of home". Growing from one to four catteries around Melbourne, Ebony still owns and operates all four locations to ensure you are receiving the absolute best, personalised care that she set out to provide from day one.
Everything at Cat Napping has been carefully researched and selected to ensure your cat's comfort, from the furnishings and food, down to our qualified team of carers. Basing our care on the expertise of top level animal handlers, we are a luxury five star hotel for cats.
And don't worry – we haven't forgotten about you! While your cat is relaxing and being pampered from head to paw, you'll be able to stay in touch with regular updates and photos during their stay. The team at Cat Napping loves being able to share what the cats are getting up to while you're away and we want you to be able to relax and know that your cats are receiving the best care while you focus on whatever it is that has taken you away from your loved ones.
Follow us to see what our guests get up to during their holidays with us!
Led by founder, Ebony, each member of our team of carers are especially selected for their passion for cats and animals, and their experience and familiarity with caring for them.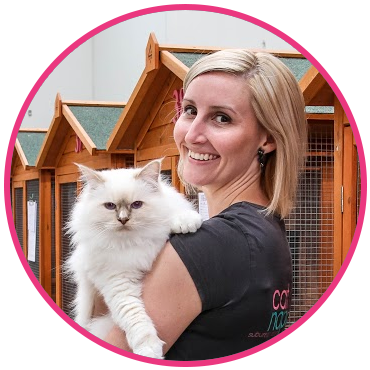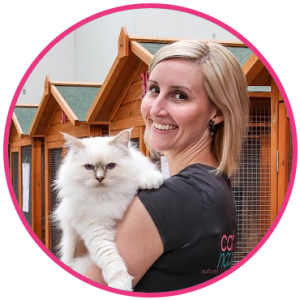 Founder, Manager, and everything in between – can be found at all locations!
I set out to create luxury cat hotels to honour my two passions, travel and cats.
Because I loved to travel but hated to leave my cats behind, I wanted to create a cattery that would meet the needs of others like me. Firstly it had to be a safe, comfortable and fun home away from home for our fur-guests and, secondly, it needed to meet the needs of their humans and allow them to confidently leave their fur-kids in our care so they can focus on whatever it might be that has taken them away.
My qualifications and experience reflect my life's loves – I have completed Introduction to Vet Nursing at Gordon Institute of TAFE, Feline Management with the Australian School of Pet Care and a Certificate III in Animal Studies at the University of Victoria. I also have an Advanced Diploma in Tourism Management to compliment my years working as an international travel consultant. 
I currently have two kitties at home, Bucket & Billy, who you can see starring in many photos and videos that we share. That leaves plenty of room for all our Cat Napping guests in my heart! I still own and work at all locations and still can't wait to get to know and care for each one of our guests.
Feel free to contact me with any questions, suggestions, complaints or compliments (or for a free tummy rub… if you're a kitty of course!) at ebony@catnapping.com.au.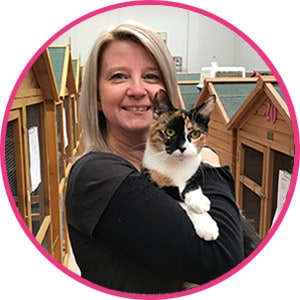 Cat Care Professional / Co-Owner, Melton
I've always a had a big soft spot for animals, having pets all my life. After working in a few different fields, I never dreamt I would land a job working with animals until nine years ago when I started working at Melbourne University as a vet assistance in the canine blood bank. I haven't looked back, knowing from then that I was always meant to pursue a career with animals. After six years it was time for a new adventure, one that would fit in well with my other job as a mum.
Cat Napping is the purr-fect place for me to work, giving me both time for my family and the joy of working with all of your beautiful cats, doing exactly what I love!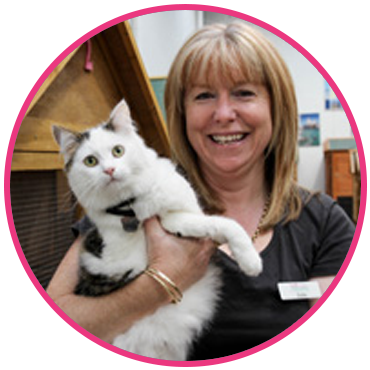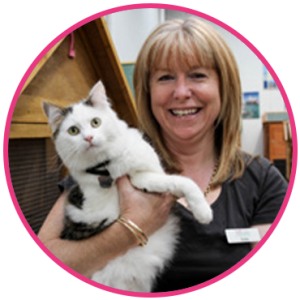 Cat Care Professional, Hoppers Crossing
I spent fifteen years working in finance and twelve years raising my children before finding my purr-fect job at Cat Napping. I'm a lifelong lover of animals and have owned a menagerie of pets throughout the years. I currently have three dogs, two cats, two birds and a snake! I also foster greyhounds and volunteer with Forever Friends Animal Rescue.
Being at Cat Napping is more than just a job to me. I like to spend extra time with our shyest cats, encouraging them to come out of their shell or enjoy some quiet attention to ensure they enjoy their stay as much as possible.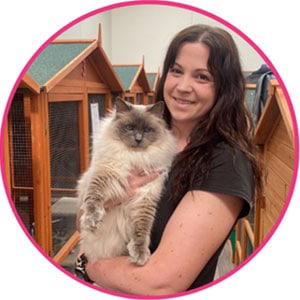 Cat Care Professional, Melton
I have always loved animals for the longest time. I have worked nearly every job you can think of. I am a qualified beauty therapist, but never felt it was right job for me. And when I finally figure out that animals is my happy place. I wanted to do anything to able to make that dream come true. I have a qualification in animal service and care, and now work two jobs and both with animals. I love my job and getting to care for others fur babies like they are my own! Nothing bets working with others that have the same passion as me.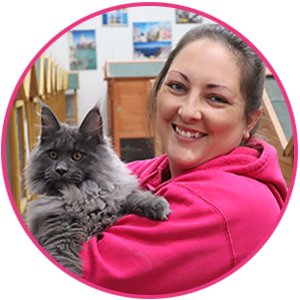 Cat Care Professional, Spotswood
I was born into a family of animal lovers so over the years we ended up owning everything from horses, dogs and birds, to rats and hermit crabs! Unfortunately, I was never allowed to get a cat due to allergies. During high school, instead of spending my time studying I was often out with riding along with my dad in an animal rescue night ambulance.
After spending fifteen years in retail management but never quite satisfied by serving the human kind, I jumped at the opportunity to work at Cat Napping. Though I need an antihistamine to get through the days, I wouldn't have it any other way. Getting my daily dose of kitty cuddles from your fur babies gives great pleasure to the inner child who wasn't allowed her own kitty.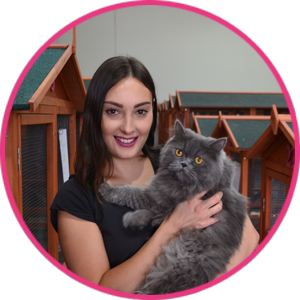 Cat Care Professional, Tullamarine
I have always been passionate about animals and animal welfare. After working in various other industries I finally decided to pursue my true passion and completed my Certificate II in Animal Studies. While studying, I completed my work placement at Cat Napping and was thrilled when they asked me to join the team permanently.
Caring for and connecting with cats is so rewarding for me, and it doesn't feel like work at all!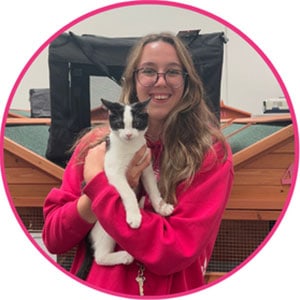 Cat Care Professional, Tullamarine
Growing up, I could never imagine myself doing anything other than working with animals when I was older. I'm currently studying to become a vet, and was so excited when I was asked to join the team after completing a placement with Cat Napping.
I absolutely love getting to care for all of our adorable kitties. The bonds that we form with the cats are truly special, and I feel so fulfilled coming to work each day!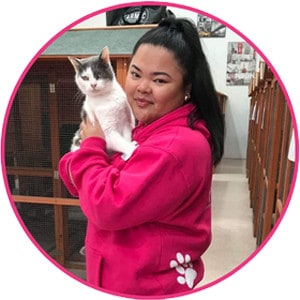 Cat Care Professional,

Hoppers Crossing
I love all cats! I love being able to meet different kitties and their personalities. I've been working in the animal industry for 2 years now and I enjoy it more than anything. I'm also currently studying Cert IV in Vet Nursing. I have 3 beautiful cats of my own who I love with my whole heart, they are just the best.
I love my job at Cat Napping, the best group of people who all share a passion of caring for animals.I particularly like to work with shy/timid cats and let them know that the world isn't such a scary place, it's the best feeling when they come out of their shell and accept all the love. In my spare time, my partner and I foster cats and kittens from The Lost Dogs Home and it's the most rewarding job ever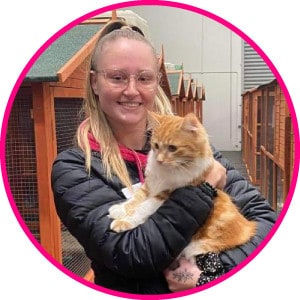 Cat Care Professional, Tullamarine
I have always been " animal obsessed " as my family would say. Constantly outside playing with all my pets. I became a huge cat lover when I got one of my very own and ever since then I've loved all cats, even if they have some cattitude.
I've worked at quite a few different cattery's but I've truly never found one like Cat Napping. The level of care and love we put into looking after these furry family members is out of this world and I'm very happy to be a part of such a strong team. I've finally found a place where I can talk about cats all day and it's normal!!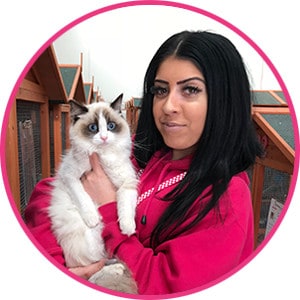 Cat Care Professional, Spotswood
I've had feline companions my entire life and find them to be simply beautiful creatures who have a rare quality in giving and receiving attention. My passion for cats and raising three of my own has led me to pursue education and a career within animal studies.
Cat Napping is the ideal workplace for me as it allows me to interact daily with cats and their owners, giving them the reassurance they need that their fur babies are being left in a safe, clean, caring environment. I enjoy the many personalities that my kitty clients have and love caring for them, as well as being able to recount all of their antics to their owners. Providing outstanding care and service to the beautiful cats of the Cat Napping is my number one priority. If the cats are happy, so am I!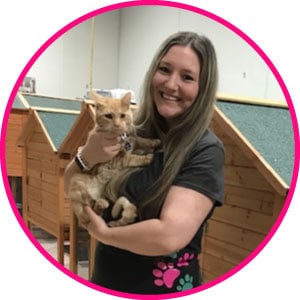 Social Media Content Creator
Cats were the only pets I had growing up, so I've always been a cat lover! I've spent the last seventeen years working in customer service, and with my love for cats, I thought why not combine the two skills and land my dream job at Cat Napping! 
At home, I'm a busy mum to two very active boys under five, and own three cats plus a dog myself. Working at Cat Napping allows me to have all these bonus cats to love and care for. The purr-fect job! 
My favourite cat guests are those who require a little bit of extra effort to settle in, there's nothing more rewarding than becoming that cat's best friend by the end of their stay!